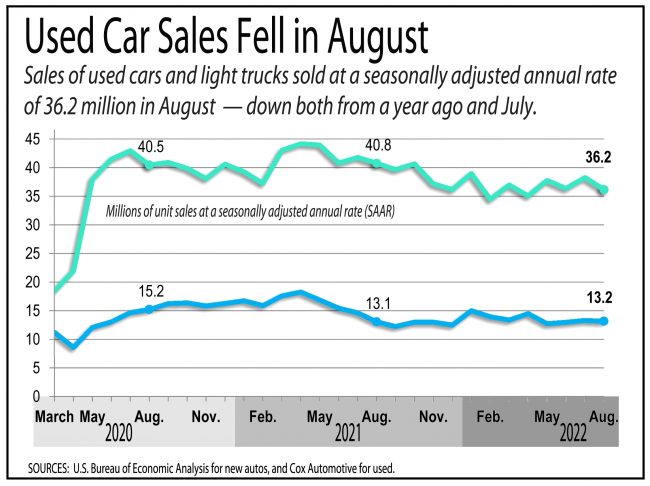 Higher prices and tariffs holding back car sales
Cox Automotive reported on Thursday that used car sales slipped in August, following a report earlier this month that new car sales were flat.
This time it's not just inventory. Cox Automotive said the slowdown was beginning to reflect higher payments caused by both higher prices and higher interest rates.
Cox Automotive estimated that the total used vehicle sales in August, there were nearly 3.1 million units, down 11.4% from August 2021. The seasonally adjusted annual rate (SAAR), or pace of sales, is estimated at nearly 36.2 million, down from last August's level of 40.8 million and below July's revised pace of 38.3 million. .
"Higher prices and higher interest rates are slowing sales in the used market," said Cox Automotive chief economist Charles Chesbrough. "Used vehicle sales will face increasing headwinds throughout 2022 as rising interest rates continue to dampen economic activity."
Although figures for credit union auto loan production were not available, balances reported by CUNA showed that credit unions held about twice as many used car loans as new cars. Together, they accounted for about a third of total credit union lending.
The latest data from CUNA was for July, and showed used car loans totaled $300.8 billion as of July 31, up 18.5% from a year earlier and 1. 4% compared to June. New auto loans rose 17.3% to $167.7 billion from a year earlier and 1.9% from a month earlier.
Cox said retail sales of used vehicles, which exclude retail sales, fell to 19.1 million in August from July's revised level of 20.2 million. They were down 11.4% from a year ago.
Year-to-date, the total second-hand market is currently on track to end the year down more than 12% from the 40.6 million recorded in 2021.
The U.S. Bureau of Economic Analysis reported Sept. 2 that SAAR for new cars and light trucks was 13.2 million in August, up from 13.3 million in July and up from 13.1 million in August. 2021.
Cox Automotive reported Thursday that the U.S. supply of available unsold new vehicles stood at 1.23 million units at the end of August, up 31% from a year earlier. In mid-2021, the global shortage of computer chips began to limit production.
"Available supply is at its highest level in our data since June 2021," Chesbrough said. "Yet it is well below historic levels. Production simply cannot yet catch up with demand.
Cox Automotive also reported on Thursday that new vehicle affordability fell again in August as new vehicle prices set new records and auto loan rates hit a more than 10-year high.
The average new car transaction price set another record in August: $48,301, up $222, or 0.5%, from July, and up $4,712, or 10.8% , compared to August 2021.
Cox Automotive said it expects prices to remain high due to continued strong demand, low inventory and record incentives. Additionally, luxury vehicles accounted for a record 18% of new-vehicle sales, as automakers continued to favor computer chips available to high-margin premium models over entry-level vehicles.
Incentives fell slightly in August compared to July and remain low at just 2.3% of the average transaction price. A year ago, incentives averaged 5.5% of prices paid.
Cox Automotive estimated that more than half of buyers will need to spend 42.6 weeks of their salary to buy the average new vehicle in August, up from a median of 42.2 weeks in July and up 14% from the last year.
While median income rose 0.4% from July to August, all other factors played against affordability. Along with higher prices and weaker incentives, interest rates also increased by an average of 37 basis points.
As a result of these moves, the estimated typical monthly payment increased by 1.4% to $743.