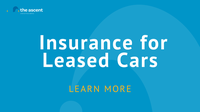 Insurance for rental cars: what you need to know
There are several ways for a driver to obtain insurance for a rental car:
Buy car insurance online
The easiest way to get coverage is to buy car insurance online. To do this, drivers visit the insurer's website and get a quote. They will need certain personal information and details of any accidents or traffic violations that have occurred within the past three to five years. They will also need to know the make and model of the vehicle as well as the rental company's insurance requirements.
It is quite easy to compare quotes from several insurers to find cheap car insurance. Once a driver has a policy quote they like, most insurers will allow them to purchase that policy directly from the website. Coverage can often begin the same day.
Buy car insurance from an independent agent
Not all insurers allow online quotes. In this case, the driver must speak to an agent, usually over the phone, to get a quote. Independent agents work with multiple insurers and can help drivers compare quotes from multiple companies to find the best deal.
The process is similar to getting a quote online. The driver provides his insurer with all the details needed to get a quote, and then the agent gives him the price. If the driver wishes to proceed with the purchase, he gives the agent his payment information and the agent completes the transaction for him.
Buy car insurance from an agent of an insurance company
Some companies only sell insurance through captive agents. This means that they only work for one company, unlike independent insurance agents. Getting a quote from one of these companies is like working with an independent agent. However, drivers will have to contact other companies themselves if they want to compare quotes.