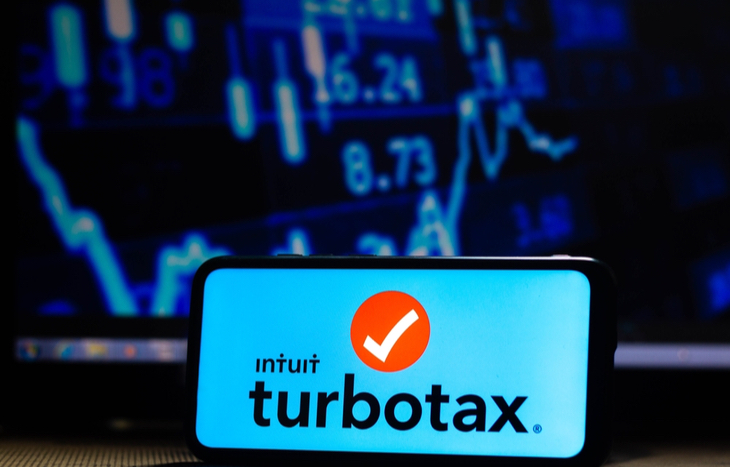 Intuit Stock Forecast: Is It a Buy It Now?
Intuitive (Nasdaq: INTU) Stocks have been growing in sales and earnings every year since 2016. This article will take a closer look at Intuit's stock forecast, then at the end you can see if it's the right investment for you. You may know the company from its popular TurboTax personal tax filing service. The platform allows users to file their annual tax returns quickly and easily each year. After you register and enter your personal information, the platform can pre-fill the tax forms for the following years.
Additionally, employers can allow TurboTax to pull earnings information directly into the platform. The ease with which TurboTax customers can file their taxes has kept customers coming back to the service year after year.
Although TurboTax is a big part of Inuit business, there is more to the story. Inuit also sells accounting services on its QuickBooks platforms. Small and medium accounting firms appreciate the simplicity and convenience of QuickBooks. Plus, QuickBooks can link to customers' bank accounts and reduce the need for printed receipts for bookkeeping.
Inuit's success with TurboTax and QuickBooks has allowed the company to enter other areas of small business owners. Over the past few years, Intuit has acquired Credit Karma and Mailchimp.
Credit Karma is a platform for customers looking for auto loans, home loans, credit cards, and other loans. Mailchimp is an online email marketing service offered to small and medium-sized businesses.
Intuit Stock Forecast
A stock forecast from Intuit reveals that more growth could be in store for the company. Earlier this year, Intuit officials gave investors guidance for their full fiscal year, which ends July 31, and the third fiscal quarter, which ends April 30. Remember that Intuit completed its purchase of Mailchimp in the second fiscal quarter.
Forecasts showed that Intuit believes its full-year sales will grow between 26% and 28% to more than $12 billion. The sales forecast includes a full year of Credit Karma, which Intuit acquired in December 2020. Additionally, Mailchimp sales are included in the forecast starting in the second fiscal quarter.
Intuit's forecast went on to say that the company thinks adjusted earnings per share will rise 18% to 20% to a range of $11.48 to $11.64. Intuit expects sales to grow between 32% and 33% for the third quarter. And the company also thinks adjusted earnings per share will be between $7.51 and $7.57.
Industry analysts are less optimistic in their forecasts. On average, analysts expect Intuit's earnings per share to be $8.14. For the fiscal third quarter, analysts expect earnings per share to be $6.70. Both predictions are lower than Intuit's predictions.
Intuit will release its third quarter results on May 24 at 1:30 p.m. PT. Intuit officials will host a webcast to discuss the results and answer questions from listeners. You can find a link to the webcast here.
Is Intuit Stock a good buy?
Intuit owns two of the most widely used personal finance platforms in the United States, TurboTax and QuickBooks. The acquisitions of Mailchimp and Credit Karma give the company the ability to sell the new services to customers who already use TurboTax and QuickBooks.
These things can reassure you that Intuit stock is a good buy. However, a stock valuation shows that stocks can be expensive. For example, if the annual earnings per share of the Inuit are in line with their forecasts, the shares are trading at a forward price-to-earnings ratio greater than 31x.
Value investors may find the P/E ratio too high, but growth-oriented investors may accept it given the strength of the company. Additionally, Intuit stock pays a small dividend yield of around 0.73%.
Another thing to think about is that growth stocks have fallen this year. Intuit shares have fallen more than 43% this year. If growth stocks like Intuit continue to fall, the stock's valuation will improve.
Keep reading for more information on the Intuit stock forecast.
Profit from Intuit shares
On February 24, Intuit issued a press release on its results for the second quarter, which ended on January 31. The press release indicated that sales for the quarter increased by 70% compared to the same quarter last year. Excluding sales of Mailchimp and Credit Karma (which Intuit did not own a year ago), sales were up 39%.
Credit Karma sales set a quarterly record of $444 million. Additionally, non-GAAP earnings per share increased 128% to $0.68 for the quarter. Interestingly, industry analysts believed that Intuit's stock forecast would return earnings per share of $0.93. Thus, Intuit missed analysts' forecasts for the quarter.
The Inuit used the quarter's profits to add shareholder value. The company repurchased $519 million in stock and paid a quarterly dividend of $0.68 per share. The dividend was a 15% increase over the dividend for the same quarter last year.
In the press release, CEO Sasan Goodarzi said, "Our platform continues to thrive as digitalization is more important than ever. As we navigate tax season, we're proud to help customers get the biggest refund they deserve. »
After the results were released, Inuit managers hosted a webcast to discuss the results. After speaking, the managers answered questions from the listeners. You can find a link to the webcast replay here.
Intuit sued by the FTC
In March, the Federal Trade Commission (FTC) sued Intuit over the company's advertisements that TurboTax might be free for many customers. Although most people who thought the service would be free found that the service was not free. The FTC says the ads, which ran during the SuperBowl and March Madness, urged filers to use the IRS' free files program and then redirected filers to paid services.
Intuit quickly issued a press release stating that it would contest the FTC complaint. In the statement, Intuit Executive Vice President and General Counsel Kerry Mclean said, "While it is disappointing that the FTC has chosen to pursue this lawsuit, we look forward to presenting the facts before the court and are confident in the correctness of our position. "
Later, the New York Attorney General said Intuit agreed to pay $141 million to customers deceived by the ads. Payments will go to 4.4 million filers who used TurboTax. Additionally, Intuit will stop advertisements promoting free tax filing services.
BJ Cook is a lifelong stock market nerd. He has held several positions in the world of equity research and earned the right to use the CFA designation in 2014. When he's not writing for Investment U, you can find him seeking new ideas of investment. Outside of the investing community, BJ is a die-hard Cubs fan.