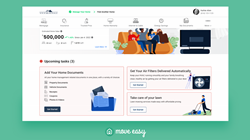 MoveEasy launches the country's first fully integrated home platform
"MoveEasy has evolved into the ultimate consumer engagement platform for all things home. We empower brokers and real estate agents to personalize the customer experience – delivering real value with every decision you make. they must take as owners." – Venkatesh Ganapathy, CEO of MoveEasy

COLUMBUS, Ohio (PRWEB)
September 29, 2022
MoveEasy, the real estate industry's leading concierge services provider, today announced the nation's first fully integrated, white-label home management platform, empowering customers to make smarter decisions and save money. money throughout their journey as owners.
MoveEasy's platform and app now gives customers a holistic view of every decision they need to make as homeowners – whether they're buying, selling, moving or managing their existing home. Homeowners can apply for new loans or refinance through their brokerage's mortgage partners, instantly check their home's value, budget for home-related expenses, and see how each update to their home improves the value and the equity in their home over time.
For real estate partners, MoveEasy automates the workflow with clients and delivers unprecedented value, leading to stronger engagement, loyalty and retention. Agents can automate communications, share timely reminders about home-related tasks, while displaying exclusive information and discounts for service providers in all categories.
"Imagine only needing to use one platform for every homeownership decision," said MoveEasy CEO Venkatesh Ganapathy. "That's the power of MoveEasy. Whether you're remodeling your kitchen, replacing your roof, or retrofitting your solar-powered home, there are a variety of factors to consider. MoveEasy empowers real estate agents to act as trusted advisors, surface information and discounts to save clients money, wherever they are in their journey. This leads to a significant increase in customer engagement with stronger customer loyalty and satisfaction.
The new platform updates MoveEasy is launching today include:

Integrated services for buying, moving and managing the home. From pre-approving a loan with a broker's mortgage partner to closing documents and maintenance records, clients can now manage it all through the MoveEasy platform.

A new home valuation tool provides homeowners with instant and accurate insight into their home's value, while allowing them to see how home improvement projects increase their home's equity over time.

A home equity planner tool gives clients a holistic view of their current equity. Homeowners can see an overview of their pending loan amounts next to their home equity, as well as options to pre-qualify for a HELOC loan to improve their home.

A cost of living and savings tool allows customers to see estimated mortgage and monthly expenses when a homeowner is appraising a new home they want to buy or exploring a vacation home or investment property/ rent. MoveEasy's savings tracker also constantly searches for the best prices on home-related services such as internet, utilities and insurance, helping customers save money or avoid overpaying .

A comprehensive 360° project planner gives customers new insight into the cost of a home improvement project, such as a kitchen remodel, new HVAC system, or solar upgrade , while providing them with financing options. Agents can also view savings and exclusive information for customers related to any project, as well as timely reminders for related services such as lawn care, air filter updates, renewals. subscriptions and other tasks.
"MoveEasy has evolved into the ultimate consumer engagement platform for all things home," Ganapathy said. "We empower brokers and agents to personalize the customer experience, delivering real value to every decision they have to make as owners. Simply put, we offer the industry's widest range of fully integrated home-related services on a single platform, while delivering insights, exclusive discounts and features to help customers improve value and value. net of their home over time. »
MoveEasy's Owner Dashboard gives customers access to service providers in a growing number of categories, including home insurance, internet and cable providers, home protection, energy, utilities, solar power and home improvement. Through direct integration, real estate partners can also integrate their preferred network of partners such as mortgage, insurance or home warranty providers, or contractors.
It all builds on what is perhaps MoveEasy's most unique feature: each customer has a dedicated human concierge – available by phone, text or email to help with any moving or property management requests. the house while being entirely white label for the brand on all platforms. No other company in the industry offers this level of brand and service.
MoveEasy continues to build momentum with over 130,000 real estate agents using the platform, representing millions of homeowners. Berkshire Hathaway HomeServices, Century 21, RE/MAX, Howard Hanna and Schmidt Family of Companies are just a few of the top real estate partners nationwide using MoveEasy to deliver exceptional customer service, resulting in increased commitment, loyalty and recommendations. Starting today, all MoveEasy partners and agents will have access to the home management platform and can start using it immediately with current and past customers and prospects, free of charge.
About Move Easy:

MoveEasy is the industry's first comprehensive home management and concierge platform designed to help the 139 million homeowners in the United States with all of their moving and home management needs. MoveEasy's 360° dashboard provides access to service providers in multiple categories, an integrated savings calculator, concierge service, and more. For real estate partners, MoveEasy is a fully white-labeled, turnkey concierge solution that helps brokers customize and personalize the platform to deliver true end-to-end lifelong concierge service to their clients. Today, MoveEasy works with realtors across the country representing over 130,000 agents. For more information visit http://www.moveeasy.com

Share the article on social networks or by e-mail: